FS-60C Refractor by Takahashi©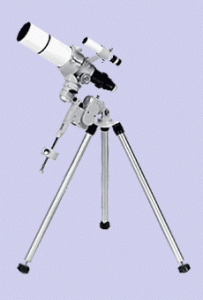 Takahashi has just introduced the latest addition to its FS Series fluorite apochromatic refractors. As with all other FS refractors the FS-60C has its hard multi-coated fluorite objective up front with a low dispersion hard multicoated rear element
This compact short focus [f/5.9 – 355mm] apo refractor is the perfect eclipse telescope and with its triplet reducer [f/4.4 – 264mm] is a great little astro camera or spotting scope.
The FS-60C is supplied with the revolutionary "palm sized" equatorial mount "The Teegul Sky Patrol." This small, very portable sidreal rate mount will fit in a camera bag and can be attached to an camera tripod.
This smallest most portable mount can be taken around the World for solar eclipse or expeditions to remote areas.



Optical System

60mm Flourite
doublet

Coating
Fully
Multi-Coated

Aperture

60mm


Focal Length
355/255mm
w/reducer or 370mm w/flattener

Focal Ratio
F/5.9 – F/4.4
w/reducer



Light Grasp

73x


Resolution

1.95″


Limiting Magnitude

10.7


Image Circle
Ø44mm
w/reducer

Photo Field

5.0°/7.0°


Reducer
Triplet
[f/4.4]

Tube Diameter

Ø80mm


Tube Length
400mm
[15.8in]

Weight
1.3kg
(2.9lbs)

Finder Scope

5×25 9°
TSA-102S by Takahashi©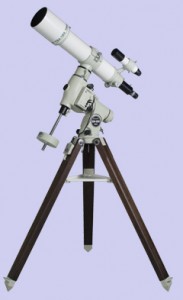 Newly designed triplet apochromat TSA Series

Very high color correction, produces color-free images

Airline portable less than 23″ long and weighs 11 lbs.

2.7° focuser for stable focusing, will accommodate heavy CCD cameras or bino viewers

Enhanced back focus of 230mm [9.39″] allows the use of any bino viewer with ease

Supplied with rigid 72mm r extension tubes to assure deflection ?free focusing

Quick release finder bracket allows the user to keep finder alignment when finder is removed and reattached

Knife edge baffles and over sized tube produce very high contrast images
The TSA-10S2 is the first in the new TSA line of Takahashi triplet apochromats. The color free images produced will delight the lunar, planetary and deep sky observer with very high contract images with pin point stars.
The compact size, less than 23° with the lens shade retracted, makes the TSA-102 the perfect airline ready apochromat. The TSA-102S is great for eclipse expeditions or transport to remote sites.
Not only is the TSA-102S a great visual instrument, it can be converted into a flat field f/7.84 or an f/5.98 wide field imaging platform for a CCD camera or digital SLR. The addition of the optional camera angle adjuster allows the image to be rotated 360° without loss of focus. The camera angle adjuster is also very handy for visual applications to position the ocular or bino viewer in the best most comfortable position.
The TSA-102S is a compact, high quality, apochromatic, versatile Takahashi, made for the refractor enthusiast who wants a very high quality instrument in a relatively compact package.
Aperture

102mm r

Objective

New design triplet apochromat

Focal Ratio

F/8

Focal Length

816mm

Back Focus

230mm [9.39″]

Diameter of Main Tube

114mm r

Length of Main Tube lens shade collapsed

585mm [23″]

Weight

of Main Tube

5kg [11lbs.]

Focuser

Size

68.6mm [2.7″]

Packing

triple carton [maximum protection]