This product is currently out of stock and discontinued.
For Orion, Hardin, Antares, DBA, Zhummel* : Dobsonian Telescopes
Our new version of Scope-Gripp is machined from ABS plastic and works the same as our original version at less cost.
Fine tuning balance for heavier eyepieces and binoviewers: We use four vane "Phenolic handles" with Teflon washers on each side, to allow the user to fine tune the amount of tension to the altitude bearings.
Smoothness of altitude movement: "ABS" has a lubricity between Delrin and Nylon, its just right smoothness will not scratch the plastic bearing material.
Set up and break down time: Scope-Gripp II is slotted so moving the OTA in and out of the cradle is a breeze, just back off the handles a few turns and lift.
Orion Dob with Stratus eyepiece
Close-up ScopeGripp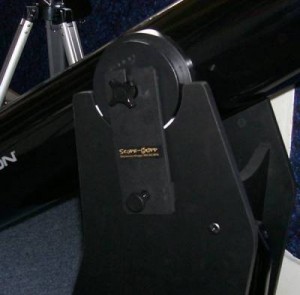 Installation is easy!
Remove the springs and screws.
Place the Scope-Gripp II over the bottom hole and a

lign slot with top hole. 

Add original knobs or our upgrade knobs.
Adjust tension to fit your needs.
Orion, Hardin, Antares, DBA and Zhummel Scope* ( see note below)
ScopeGripp II for 8 inch Dob
$59.99
ScopeGripp II for 10 inch Dob
$62.99
ScopeGripp II for 12 inch Dob
$62.99
Zhummel Special Notes: Zhummel Dobs are a very good value for the money. We do not carry them, but do support these telescopes with all of our upgrade kits. Since they are a new company, some of the hardware and cradle sizes vary; therefore ,if you are ordering Scope-Gripp II for a Zhummel scope ,order Gripps one size up and please email me to verify (Gripp knob spacing), or order Scope-Gripp I (please see photo below).
Thank You,
Tony C
This and all of our products are proudly made in the USA.
3Warranty: on all machined parts and handles 5 years.
The Scope-Gripps work great! I'm using them on a 10″ Hardin, and have a finder scope, Tetrad, 2″ Barlow and a 2″ 15mm eyepiece attached. The Scope-Gripps keep the scope right where I put it! No drift or sag. In fact, I was able to loosen them to make the movement a little smoother and they still held tight! After observing, just a couple of turns and the scope comes right out of the rocker box. A great product! Wish I had thought of it!
-Jim
redmer@wideopenwest.com