This Product is no longer available, there are some spare parts left please email me and DO NOT ORDER! Thank you Tony C august 2016
ScopeScout and ScopeScout-II Bracket for Dobs
Make any scope and any mount into a computerized object locator! With built in GPS and 50,000 object data base.**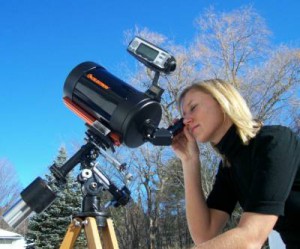 Celestron 6 SCT SkyScout and ScopeScout bracket
Now : You can make any scope a "push to object locator" , with **Celestron SkyScout and Astronomy-Shoppe's Scope-Scout bracket.
With: Built in GPS and *50,000 object data base.
Now: Find Planets in full daylight.
Our: product will work on will any scope that has a standard Vixen/Orion dovetail finder bracket (see list at the bottom)
Our: adapter is modular and may be removed from the telescope and attached to Binoculars.
This unit is shipped complete with all mounting hardware for your SkyScout (Bracket and Dovetail and Stainless steel 1/4-20 thumbscrews and three nylon thumb screws).
Questar Scout ** Takahashi Scout, Celestron Scout
Standard Kit for SCT, Maksutov and Refractors: In Stock
Scout bracket Orion dovetails Our Standard and Kit
To connect your SkyScout to a telescope you need he following : Dovetail base (Orion part 7214/7215)
Standard Kit For all SCT m Maksutov and Refractor telescopes. Includes Delrin centering table to balance the
SkyScout properly. SkyScout bracket, dovetail adapter. All Stainless Steel mount hardware
and nylon adjustment screws included.
(Made in USA)
Price $69.99
ScopeScout Standard  for SCT**
Bracket, Small standoff, Centering Table, Brass insert , Stainless, Nylon leveling screws ( not pictured)
**Celestron and Meade OTA will require a vixen style dovetail to hold he bracket Orion 07215 works great 17.99 from orion 15.00 with our product.
ScopeScout Standard with 07215 base
Questar Kit For Questar, ETX 102, Celestron 130 ETX 125.
Delrin Centering table, Dovetail adapter and mounting rings. All stainless steel hardware includes SkyScout Bracket ,and Nylon adjustment Screws
( Made in USA)
Price $99.99
Scope-Scout -II and II "D"
Meade LightBridge 12** with SkyScout , Red Dot and Disrupter.
LightBridge with laser pointer sky scout bracket, centering table, small standoff, stainless mounting hardware and orion 07215 bracket.
ScopeScout II
for Dobs 6″ or smaller and includes, a Bracket , Tall standoff, Centering table and stainless mounting hardware.
ScopeScout II- D
for Dobs 8″ and larger. Our kit  will include a Tall Standoff, Centering table, a Disrupter and Stainless hardware
Important Information on ScopeScout-II "D" Please read before you Order..
Before ordering our product please check your SkyScout for accuracy buy having your SkyScout on a camera tripod and centering a few stars. If your SkyScout is not with 2 degrees then please send the unit to Celestron for calibration.
**Meade Lightbridge owners: The dovetail that is supplied with the Meade LightBridge will NOT fit our tall dovetail adapter, you will also need to replace the dovetail with Orion 7214 adapter available from Orion or from us at 15.00 with the kit.
The "Disrupter" negates the magnetic interference and will allow your SkyScout to accurately locate objects. The Disrupter is not needed on metal telescopes 6inches in diameter or less and Dobs without Ferrous Metal (sonotube)
*Magnetic interference IS caused by FERROUS metal parts on larger reflectors, including focusers, secondary mirror holder, and spider.
Scope-Scout-II
for Dobs 6 inches and under (Bracket, Centering table and Tall expandable dovetail adapter, All mounting hardware, stainless steel and nylon adjustment screws.
For Dobs 8 inches and larger ( Bracket, Centering table and Tall expandable dovetail adapter, All mounting hardware, stainless steel and nylon adjustment screws and Disrupter.
**Lightbridge owners need also Orion dovetail 7215
This is a list of Scopes we have tested with our products
Meade Lightbridge, 10, 12, 16 ScopeScout-II
Orion Classic 4.5,6, ScopeScout Standard
Orion Classic, 8,10,12 Scopescout-II "D"
Hardin 10, 12 inch Dob ScopeScout-II "D"
Celestron SCT 6, 8, 9.25 ScopeScout Standard
Refractors, Televue 102, TAK FS 60, 78 102, Orion Ed 80, Orion 110, Williams 66,80, 110,
Skywatcher 4, 120 refractors ScopeScout Standard
Skywatcher 8 and 10 inch dobs Scopescout-II "D"
Questar, Meade 90, 125 nd 10 inch dobs Scopescout-Standard
Warranty: Any product or part that is defective will be exchanged free of charge within the first 15 days of purchase. After 15 days of receipt, all products returned will be subject to a 15% restock fee. Products must be used as advertised in order to fulfill manufacturer's warranty.