Why use cheap eyepieces with a great scope when you can get great eyepieces at a great price from the Astronomy-Shoppe?
We carry a wide selection of 1.25″ and 2″ eyepieces made by Celestron, Orion and Takahashi. Whether you're looking for just a single eyepiece to complete your collection or a set, we have what you need!
– the Astronomy-Shoppe Team
Orion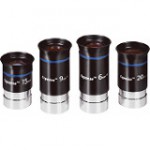 (Out of stock)
For Adults first getting into the hobby we recommend Orion Expanse eyepiece because of their eye relief and value
sizes are 20mm, 15mm 9mm and 6mm all at 72.00 each (our price) Orion's price shipped 77.89
Orion-Best low cost flat field light weight eyepiece
Edge-On Eyepieces offer premium performance at an amazing price!

27MM

$105.00

Sharp focus from edge to center of the viewing field

19MM

$105.00

Large eye lens and long eye relief ns.

16MM

$105.00

At less than $100 a piece, Edge-On Planetary

14MM

$105.00
 

High-Power, Flat-Field Design for Better Planet Study

$105.00

Exceptional planetary and lunar viewing

9MM

$105.00

20mm eye relief for comfortable viewing even with eyeglasses on

6mm

$105.00

Flat field design ensures sharp focus 55-degree apparent field of view

3MM

$105.00
Celestron Plossl
(in Stock)
Better than stock plossls
| | | | |
| --- | --- | --- | --- |
| Celestron's Best Plossl Eyepieces. | | | |
| Celestron Omni Series – 1.25″ 40mm eyepiece If you are looking to move up to a higher quality eyepiece the Omni series provides more enhanced features in a wider selection of focal lengths. Celestron designed this series with the finer points… |   | $49.95 | Shipping 4.95 |
| Celestron Omni Series – 1.25″ 32mm eyepiece If you are looking to move up to a higher quality eyepiece the Omni series provides more enhanced features in a wider selection of focal lengths. Celestron designed this series with the finer points… |   | $49.95 | |
| Celestron Omni Series – 1.25″ 20mm eyepiece If you are looking to move up to a higher quality eyepiece the Omni series provides more enhanced features in a wider selection of focal lengths. Celestron designed this series with the finer points… |   | $39.95 | |
| Celestron Omni Series – 1.25″ 15mm eyepiece If you are looking to move up to a higher quality eyepiece the Omni series provides more enhanced features in a wider selection of focal lengths. Celestron designed this series with the finer points… |   | $31.95 | |
| Celestron Omni Series – 1.25″ 12.5mm eyepiece If you are looking to move up to a higher quality eyepiece the Omni series provides more enhanced features in a wider selection of focal lengths. Celestron designed this series with the finer points… |   | $29.95 | |
| Celestron Omni Series – 1.25″ 9mm eyepiece If you are looking to move up to a higher quality eyepiece the Omni series provides more enhanced features in a wider selection of focal lengths. Celestron designed this series with the finer points… |   | $31.95 | |
| Celestron Omni 1.25 in – 2x Barlow The Omni Barlow is a high quality 2x Barlow lens that doubles the magnification of all 1.25″ eyepieces. This economically priced Barlow has great features like, low profile, 2-element fully-multicoated optical… |   | $47.95 | |
Celestron Filters  (expected Nov 1)
(In stock)

Celestron color filters are mounted in black anodized aluminum cells with the Kodak Wratten Series Number individually engraved, and come available in 4 assorted kits packed in plastic cases. The cells of each filter are double-threaded, so they can be stacked (piggybacked) in various combinations. This allows you to create different color combinations and transmission characteristics, or to have the same color characteristic, but with a lower transmission. When stacking color filters, the effective transmission of the combination you create is equal to the product of the spectral transmission of each of the filters used.
Celestron Filter Sets
Price: $39.95


Celestrons Moon Filter is an economical eyepiece filter for reducing the brightness of the moon and improving contrast, so greater detail can be observed on the lunar surface. The clear aperture is 21mm and the transmission is about 18%.
Celestron Moon Filters
Price: $12.95 plus 5.95 shipping


The new ultra high contrast (UHC) LPR filter has improved contrast over the typical broadband filters. Sky background is darker, and contrast of emission nebulae are noticeably improved. The advanced technology coatings enable the filter to achieve an outstanding transmission of over 97% across the entire bandpass, with total blockage of prominent light pollution lines. The perfect filter for viewing nebula from light polluted skies, or for boosting the contrast of nebula from dark sky sites.
UHC Filter and O3 Filters 1.25
Price: $95.00

Luminos Eyepieces  ( expected in Dec)
7mm 82 degree FOV
Price: $139.95

10mm 82 degree FOV
Price: $139.95

15mm 82 degree FOV
Price: $139.95

19mm 82 degree FOV
Price: $219.00

23mm 82 degree FOV
Price: $259.00

31mm 82 degree FOV
Price: $359.00

Takahashi Ortho EYEPIECES  Prices include Priority shipping $5.95
(In Stock)
18mm    $189.00
[ wp_cart_button name="Tak 18mm" price="$194.95."]
12.5mm  $179.00
[ wp_cart_button name="Tak 18mm" price="$184.95."]
9mm   $179.00
[ wp_cart_button name="Tak 18mm" price="$184.95."]
Warranty: Any product or part that is defective will be exchanged free of charge within the first 15 days of purchase. After 15 days of receipt, all products returned will be subject to a 15% restock fee. Products must be used as advertised in order to fulfill manufacturer's warranty.