We have a variety of Binoculars , from affordable beginner to advanced. The first number is the magnification, the second number is the diameter of the objective lens
Cometron 7×50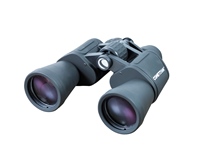 Get ready for the next awe-inspiring comet with a pair of sleek, portable Celestron Cometron 7×50 binoculars. The large 50 mm objective lenses and multi-coated optics offer amazing light-gathering capabilities that bring celestial objects into bright, sharp focus, making them ideal for comet watching, stargazing, and viewing craters on the Moon. Cometron 7×50's wide field of view lets you explore expansive swaths of the sky to quickly pinpoint exactly the object you want to see, then keeps it in your sights without constant movement.
39.99 in store pick up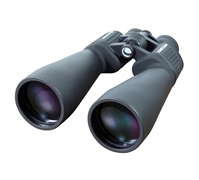 These binoculars are large enough to view deep sky objects but low enough in power to hand hold.
Powerful Celestron Cometron 12×70 binoculars feature massive 70 mm objective lenses, multi-coated optics, and a large exit pupil for incredible light-gathering capabilities that showcase comets, stars, the craters of the Moon, and even dim nebulae in crisp clarity with high contrast. Cometron 12×70's wide field of view lets you explore expansive swaths of the sky to quickly pinpoint exactly the object you want to see, then keeps it in your sights without the need for constant movement and readjustment.
With long eye relief and an included tripod adapter, Cometron 12×70 makes it easy to comfortably enjoy extended stargazing sessions. Plus, its rubberized aluminum housing is durable and water-resistant to withstand damp viewing conditions. Cometron 12×70 comes with a wide neck strap and carrying case for portability and protection.
89.99.00 in store pick up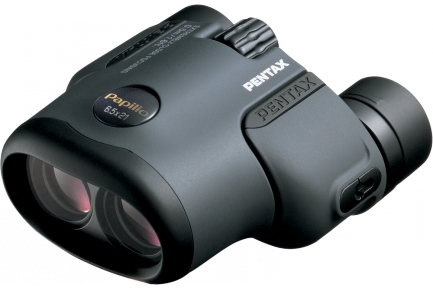 Papillio Binocular
Pentax 6.5×21 Papilio Binocular w/ Ultra close focus
The PENTAX Papilio 6.5×21 and PENTAX Papilio 8.5×21 incorporate a new mechanism that automatically compensates for the misalignment of right and left image fields at close ranges, facilitating the observation of insects in the field and exhibits at galleries and museums. The series is called Papilio, the Latin word for butterfly, because it was specifically developed to satisfy user demands for close-range observation of butterflies and other insects.
Price: $139.99  in store pick up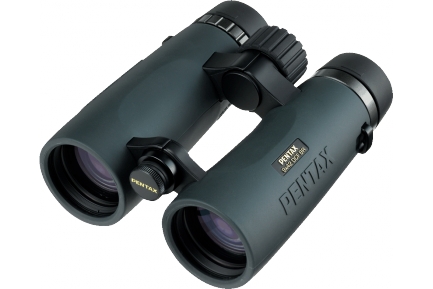 The DCF BR 9×42 Binocular from Pentax is waterproof to the point where they can be rinsed clean with fresh water. They are nitrogen filled, insuring a fog free viewing. The open-bridge architecture provides a light-weight, firm, and comfortable hold. Rubber housing with slight indentations for the thumbs helps stabilize and ease the fatigue of long viewing sessions.
Optically these binoculars are silver deposited on their auxiliary prisms for decreased internal light loss while the roof prisms are phase coated ensuring a high contrast, high resolution viewing experience. They are fully multicoated so that all the lens elements have multiple layers on all the air to glass surfaces for a brighter, higher-contrast image with less eyestrain.
The element movement for focusing takes place internally improving the fogproofing and waterproofing sealing. The housing is fully rubber coated adding protection to the binocular from bumps and bruises. A diopter ring and helicoids eyepieces with 4 click stops permits customization for those who do or do not wear sun/eyeglasses.
Dark green with black
Apparent Field of View is a wide 54.9°
Nitrogen filled to keep the condensation out and prevent fogging
Inner focusing provides greater stability and a tighter weather seal
Click stopped diopter and helicoids eyepieces produce customized viewing comfort
Waterproof JIS Class 6 to 3.3 feet / 1 meter; just rinse them off with fresh water to clean them
Fully multicoated, phase coated, and silver deposited roof prisms mean optimum optics for clear, crisp image clarity
Open bridge form factor made from fiber-reinforced polycarbonate provides strength and rigidity decreasing the weight and increasing the handling ability
Error! You must specify a product name in the shortcode.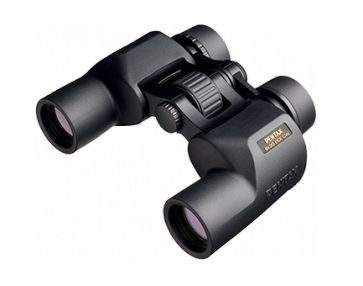 The 8×30 PCF CW Binocular from Pentax is a light and compact binocular ideally suited for sporting events, concerts, or the trail. The porro prism design produces images with good contrast between near and far objects, and the wide field of view enables easy tracking of fast moving subjects. Designed for durability, the housing has rubber armoring to protect it from drops and impacts. It's nitrogen-filled for fogproof performance, and it is submersible to 3.3 feet.
Optical Performance

Porro prism optical design
8x magnification
30mm objective lens diameter
Objective lens construction: 2 elements in 1 group
Eyepiece lens construction: 4 elements in 3 groups
367′ field of view at 1000 yards, 52.1° apparent angle of view
139.00  IN STORE PICKUP   ( OUT OF STOCK)
wp_cart_button name="PENTAX 8X30 PCF price="139.00″]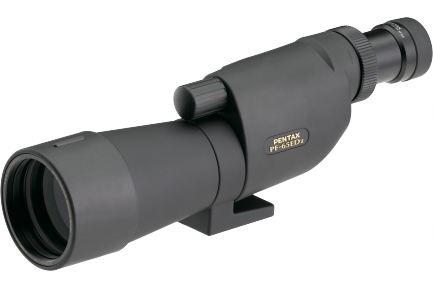 The straight view configuration of the PF-65ED II 65mm Spotting Scope with Zoom Eyepiece Kit from B&Hcombines fully multicoated extra-low dispersion glass and a waterproof housing to create an optical device ready to perform in a wide range of conditions. The included 20-60x XF zoom eyepiece features multicoated low-dispersion lanthanum-containing glass, a 42-60° apparent viewing angle, and a rubber eyepiece ring. Additionally, the eyepiece is compatible with PF-80/PF-100 series spotting scopes and telescopes with a 1.25 inch focuser. This objective assembly and eyepiece system is engineered to transmit bright images with minimal chromatic aberration and maximum detail. A 20-60x magnification range is well-suited for intermediate to long-range glassing applications.
649.00
SPECIAL ORDER "CALL"