Beginners Telescopes: All of the Scopes we sell for beginners  (Child to Adult) Have been tested and used by me personally. Mounts have been tested for stability and optics have been tested for performance. Any Telescope that is purchased here is inspected and optically aligned before it leaves our shoppe, plus we also give our matrix and instruction for newbies.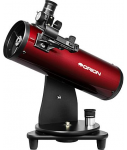 An ideal entry-level reflector telescope with 100mm parabolic primary mirror optics – no plastic lenses as found in some other telescopes made for beginners
See hundreds of craters on the Moon, detail on Jupiter and other planets, even when viewing from relatively bright city locations
A tabletop telescope big enough to find and observe objects in the night sky, but small enough to easily store in a closet or display on a desk
Perfect reflector telescope for wide-angle, low-power viewing of the Milky Way and other deep sky objects when viewing from relatively dark skies
Includes two 1.25″ telescope eyepieces: 20mm (for 20 power magnification) and 10mm (for 40 power magnification), EZ Finder II aiming device, Starry Night astronomy software, and more!

Quality optical design–parabolic mirror provides sharp image and eliminates spherical aberration
Fast focal ratio offers a wide field of view, perfect for observing comets, star clusters, galaxies, and more
No-tool setup means you are up and observing in no time
Lightweight and portable, a great grab-and-go telescope
Large aperture collects more light and provides more detail
199.00  ( Call for availability)
ST80    ( instock)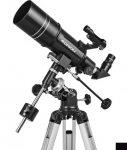 80mm refractor: very stable with slow motion controls. Complete with two eyepieces and red dot finder, manual and astronomy software. This is and excellent choice for a budding astronomy includes free phone support. price $129.99
IN STORE PICKUP BUTTON BELOW.
SHIP TO BUTTON BELOW
---
Beginner Level II
These telescope are suitable for teen through adult 90 mm apurture and two eyepieces
259.00 plus ship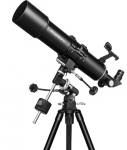 This is a great scope for the beginner, has excellent reviews from Sky and telescope and comes with two very nice eyepieces. can be upgraded to motorized mount. price $259.00 Best Seller.
In store pickup
259.00
Returns: Any product or part that is defective will be exchanged free of charge within the first 15 days of purchase. After 15 days of receipt, you must email me with a description of the problem. Returned units will be subject to a 15% restock fee.