EQ / GOTO MOUNTS
Orion Mounts
Orion's SkyView Pro EQ

Sets a new standard for stability, precision control, and affordability in a mount designed for the demanding amateur astronomer. A step up in rigidity and load capacity from the SkyView Deluxe mount, the "SVP" supports telescope tubes weighing up to 20 lbs.  Its all-metal head features enclosed 360° worm gears plus large, 86mm-diameter setting circles for easy object location by celestial coordinates. The head glides effortlessly in right ascension and declination.
Capacity    20 lbs
Price:    $849.00      plus shipping
NON GOTO Model
still Available for
$369.00 ( special order)
Skyview Pro with GOTO System
$815.00 plus shipping.
Celestron Mounts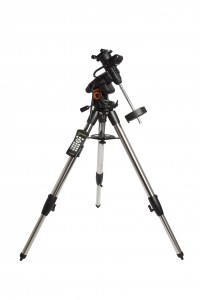 Quick Overview
Integer gear ratios and permanently programmable Periodic Error Correction eliminates recurring track errors from the worm gear.
New motors offer improved tracking performance & provide more power to overcome load imbalances
Updated industrial design offers more rigidity, less flexure and improved aesthetics
New design allows viewing or imaging across the meridian without interference from the motors housings
Improved latitude range.  Can be used between 7 and 77 degrees latitude.
Improved electronics with increased memory for future expansion
NexStar+ hand control offers multiple language programming (English, French, Italian, German, Spanish)
Capacity:   30 lbs
Price:    $799.00     Plus shipping
CGEM Mount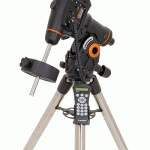 has a fresh, attractive, bold appearance and is capable of carrying Celestrons higher-end SCT optical tubes (up to 11″) securely and vibration free, which is ideal for both imaging and visual observing. Capable of holding over 40 lbs of payload and slewing at 5° per second, you will be able to instantly point to any of the celestial objects in the database
Capacity:    65 lbs
Price:    $1,499.00     Plus shipping
Warranty: Any product or part that is defective will be exchanged free of charge within the first 15 days of purchase. After 15 days of receipt, all products returned will be subject to a 15% restock fee. Products must be used as advertised in order to fulfill manufacturer's warranty.